Updated: Oct 8


We're delighted to have won the Health, Safety & Wellbeing Initiative of the Year award at the Association for Project Safety's National CDM Awards 2018, for our work on improving construction site safety with Overbury. As the company responsible for the refurbishment of the Shell Centre on London's Southbank, Overbury enlisted Cowry's team of behavioural economists and psychologists to reduce unsafe behaviours amongst their operatives.
"Because it's such a high-profile scheme, Overbury wanted a genuinely innovative - if unconventional - approach that could move the dial" says Cowry's Ziba Goddard. "It was an admittedly left-field decision in a sector not known for liking change, but nudge theory had started to gain status and momentum, and once we visited the site a few times and explained some of the practical theory it was possible to plan some clear outcomes."

After conducting an initial behavioural audit, we developed three interventions to reduce unsafe behaviour: the Cool Canteen, a GoldCard reward system and a Weekly Walkround.

Construction sites are hectic places which can raise operatives' cortisol and testosterone levels. Break times were an important chance to cool down their resultant hot emotional states, and trigger the calm mood needed to engage in safe behaviours. Thus, the Cool Canteen was born. Break room walls were painted Baker Miller pink, a colour of paint which has been shown to reduce anxiety, stress and aggression. Plants, softer lighting and communal tables were amongst the other additions to create a space which would not only prime operatives for calmer emotional states, but also make them more likely to take their breaks, and thus improve overall wellbeing.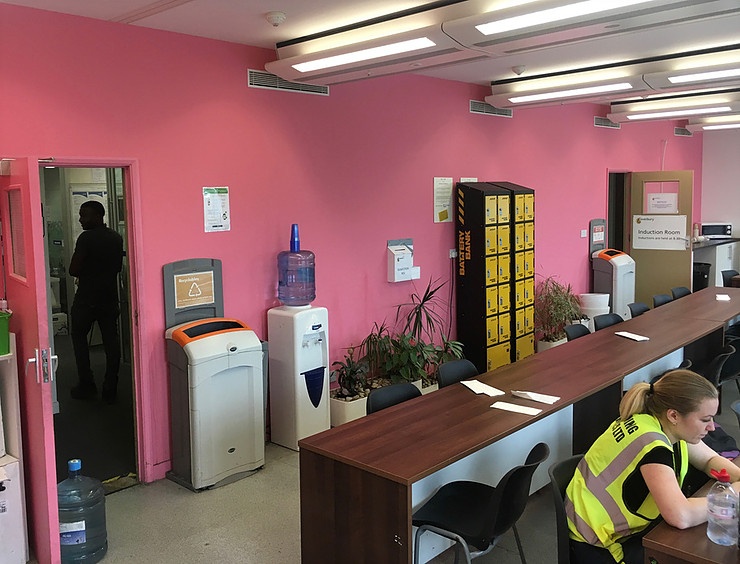 The Cool Canteen: pink walls, plants and soft lighting were used to prime operatives for cool emotional states
To reward safe behaviours we designed and introduced a GoldCard system. Possessing a GoldCard guaranteed entry into a weekly prize draw, but this privilege could be revoked for unsafe behaviour. To compound this, any individual who lost their card was responsible for their entire team's exclusion from the prize draw. And to increase operatives' sense of ownership and commitment to the scheme, their cards were signed and dated to indicate the length of their membership. Not only did the GoldCard concept incentivise safe behaviour with physical rewards, it also capitalised on the principle of loss aversion, whereby we feel losses twice as much as an equivalent gain.

Our final intervention to reinforce the importance of site safety was the Weekly Walkround, where a subcontractor and a Health & Safety specialist gave operatives feedback on the safety of their behaviour, supported by a script which incorporated psychology to reinforce safe behaviours. The Weekly Walkrounds were intended to reinforce habitual behaviour, to function as a training tool for operatives, and to build on the behavioural principle of consistency. We prefer to act in a way that is consistent with our self-image, and so operatives who had made a public pledge to behave safely were more likely to align their future behaviour with this commitment.
"The lessons we have learned here can be applied to any project size, and don't require a large financial investment to see a significant change." Sarah Piddington, Overbury
Taken together, our three interventions reduced unsafe behaviours by up to 93% in just 12 weeks. "We have invested heavily in this because we believed it would work," says Sarah Piddington, Head of Health, Safety and Wellbeing at Overbury. "The lessons we have learned here can be applied to any project size, and don't require a large financial investment to see a significant change," she continues, adding that "knowing our initiatives have helped the site operatives feel better at work and reduce unsafe behaviours is priceless." Testament to the success of Cowry's interventions, Overbury have committed to include at least one pink wall on every site as part of their Site Safety Standards.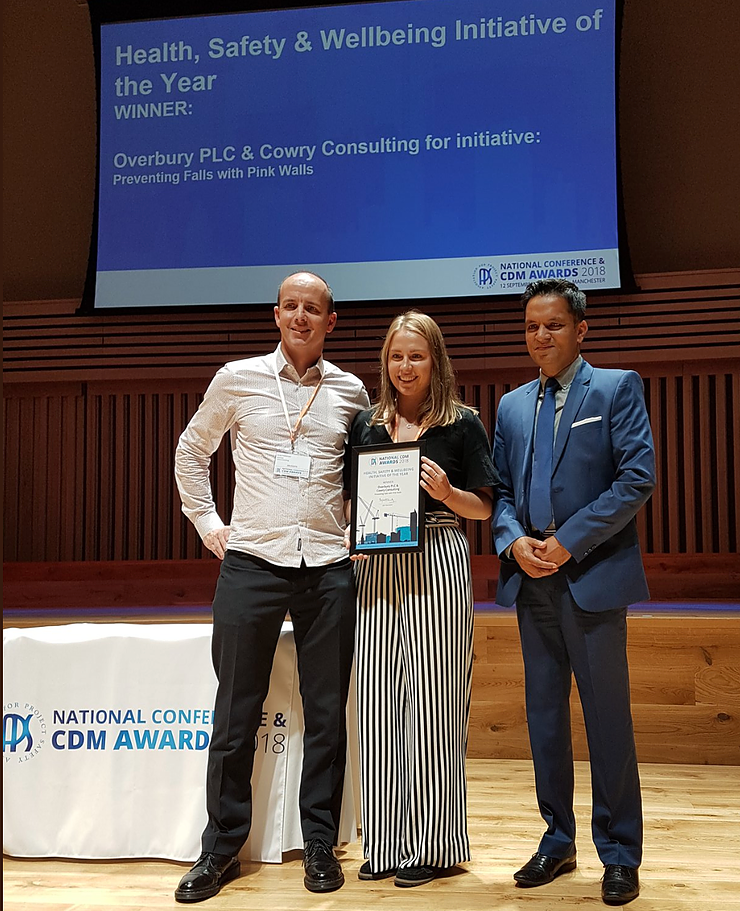 Cowry's Pippa and Andy collect the award for Health, Safety & Wellbeing Initiative of the Year
If you'd like to hear more, or have a chat about how we can help you, get in touch with us at theteam@cowryconsulting.com.

https://www.aps.org.uk/cdm-award-winners

Images by Cowry Consulting